According to information, Nigeria's estimated annual palm oil consumption is 2.4 million tons. Yet, the country has a deficit of 0.9 million tons of palm oil. So investing in palm oil processing business is a highly profitable business. You need to give serious attention. Are you looking to start a palm oil mill in Nigeria? Are you looking for the professional advises about setting up a palm oil mill? Then this page is for you.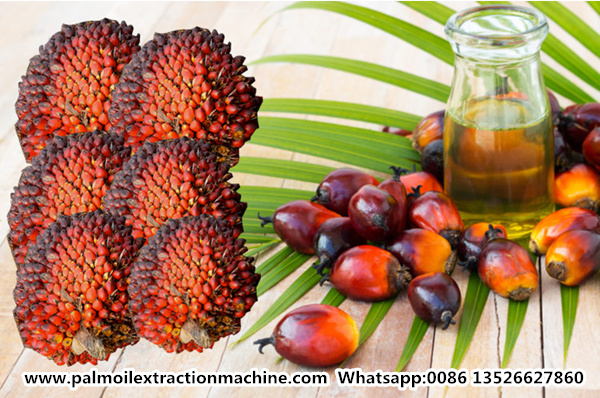 Palm oil processing business in Nigeria
Find Suitable Space and Location to set up your palm oil processing plant;
First, you will need a suitable location to set up your palm oil factory. Then the next consideration is the distance the palm oil processing plant is from the nearest farm that can supply you with the palm fruits known as Fresh Fruit Bunches (FFB). The location should be able to accommodate a parking space for trucks for offloading the palm fruits.
Also, some of the processing might be done manually by hands, make sure there is enough room for many workers to live.
Water Supply
You will need a constant water supply for the boiling/steaming of the palm fruit during processing. It has to be clean because hygiene is of utmost importance in palm oil processing process.
Suitable palm oil processing machines are needed
A palm oil mill is setup for the processing of palm oil. The palm oil mill usually consists of sterilizing (boiling) machine, threshing machine, digesting machine, pressing machine, crude palm oil clarification machine, etc. Depending on how many tons do you want to process one day, the machines you need may vary. Each palm oil mill has a capacity rating, that is an amount of palm oil it can process daily. Medium palm oil mill usually produce about 1 -5 tonnes palm fruit every hours.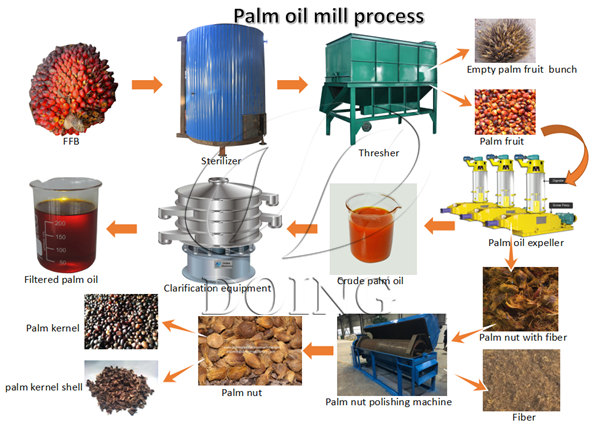 1-5tph small scale palm oil processing machine designed by Henan Doing Company engineers
The most common machines found in a palm oil mill are the palm fruit sterilizer, palm fruit thresher, palm fruit digester, palm oil press machine, crude palm oil clarification machine, boiler, and so on. If your budget is enough, you can buy the whole palm oil processing machine. But if your budget is limited, you can use manual laborers to replace the palm oil machine. For example the threshing is left to manual laborers, you wouldn't need a thresher. But of course there would be a wide gap when it comes to efficiency between the workers and the machine. Palm oil processing machines will perform faster and reduce waste significantly.
Find a reliable palm oil processing machine supplier, no matter it is Nigeria local or other countries.
The suppliers of the machinery provide tech support, they should be able to provide you with any information you need regarding the setting up of the mill and its maintenance.
Cooperating with a realiable palm oil processing machine supplier can help you save alot of money in palm oil processing machine. Henan Doing Company insists on manufacturing palm oil processing machine using fine quality material and advanced technology compliance with international quality standards. Also Doing Company will send experienced engineers to help you install the palm oil mill, which will reduce the installation cost for you. Welcome to contact us!