Palm kernel oil production is a relatively complex process requiring a number of distinct process steps which begins with the shelling of palm nut kernels and ends with the clarification of crude palm kernel oil. As a professional manufacturer of palm kernel oil machine, here I would like to introduce for you how to make palm kernel oil by using palm kernel oil processing machine.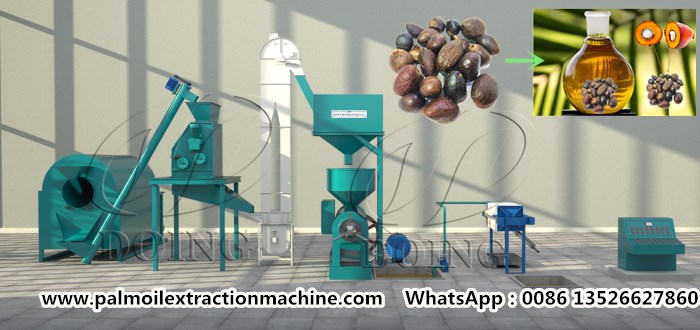 Small scale palm kernel oil processing machine
Basically, the palm kernel oil making processes will go through the following steps: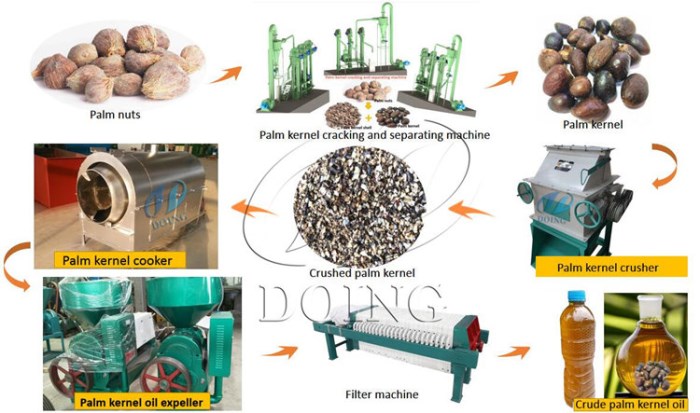 Small scale palm kernel oil processing machine with capacitgy 1-2tph
If your palm kernel is with shell, then first we need to crack the palm nuts and then separate the palm kernel and shell. During palm kernel cracking and separating process, the most widely used palm kernel oil machine is palm kernel cracker and shell separator machine. Our palm nut cracking and separating system is designed especially for the palm nuts. If you operate it well, the final separating rate can be around 90-95% .(Read more about : Palm kernel crushing and separating machine)
After get pure palm kernel, you can use Henan Doing Company produced professional palm kernel oil processing machine to extract palm kernel oil out. However the main palm kernel oil processing machines will be different which is based on many factors including production output, cost budget, degree of automation, factory conditions, client requirements, etc.
You can choose our single palm kernel oil expeller machine for small scale production, or you can choose our complete set of palm kernel oil processing machine which includes cooking, crushing, pressing and oil clarification. Cooking or roasting is to adjust the temperature and moisture of palm kernels, making it into the best state before pressing. Crushing is to make palm kernels into small pieces, thus it is easier to extract oil out. Then using our special-designed palm kernel oil expeller machine to press oil out, with the low oil residue rate around 6-7% in the cake. Finally, we can use the plate filter to remove the palm kernel oil and make it pure and clean, ready for sale at a good price.
Are you ready to start your palm kernel oil production business? Are you ready to replace your current local low-efficiency machine with our high quality palm kernel oil processing machine? Come on, get your equipment and try!