If you want to learn how to start a sunflower oil processing business in Tanzania, professional advice will be essential. In order to help more people who are new to this business to set up sunflower oil mill plant successfullly. Henan Doing Company engineers specially summarized some professional suggestions for how to set up a sunflower oil mill plant in Tanzania based on their experience of setting up edible oil mills in Tanzania. If you are interested in, please continue reading.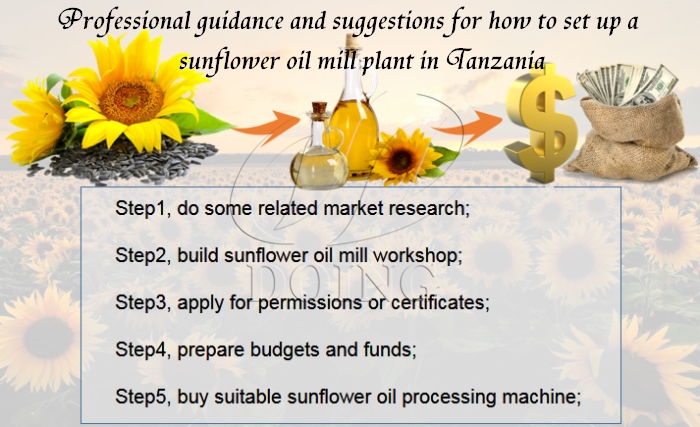 Setting up a sunflower oil mill plant in Tanzania, you need to consider these aspects: related market research, workshop building, government certification approve, fund source and equipment supplier.
Firstly, you need to do some related market research, like how to get your raw material and where to sell your final product oil which will calculate your final profit room.
But for raw material sunflower seeds, It is very easy to get in Tanzania. Because the leading producers of sunflower are Ukraine, Russia and Argentina, Romania, Kazakhstan, Turkey, Tanzania, China, and so on. Not difficult to find that Tanzania is one of the leading producer of sunflower seeds, thus it is not necessary to worry the raw material problem.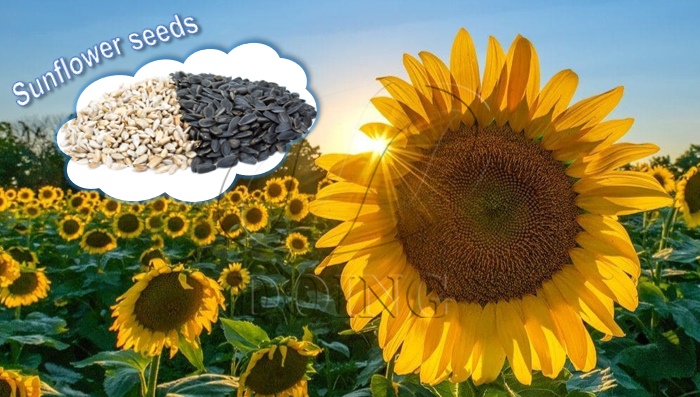 Tanzania is one of the leading producer of sunflower seeds, you can easy get enough sunflower seeds
Secondly, you need to find existing workshop or new land to build workshop for the sunflower oil mill plant project. If you choose to cooperate with Henan Doing Company, we will provide you workshop size for helping you choose suitable land.
Except for the raw material and land, you also need to check what kind of permissions or certificates you need to apply from government for setting up the sunflower oil mill plant in Tanzania. Different regions and countries may need different kinds of government permissions. For Tanzania, you need to apply for 4 certificates: land/building certification, Building permits, Construction inspection certificate issued by food and drug administration, Environmental impact certification.
Then it is about budget and source of funds, for starting the sunflower oil processing business. You need to consider the cost of buying raw materials, building factory, labor cost, machine cost, shipping cost and tax cost. You can invest all by yourself, or find partners to invest together or you can apply for bank loan.
After considering about all the above, the most important is you need to find the suitable supplier who can offer good quality low price sunflower oil processing machine and professional technology service, and after-sales service. We Henan Doing Group is the professional manufacturer of cooking oil processing machine. With mature engineering team, Doing Group provides turnkey project including process design, machine manufacturing, installation, commissioning and training services. So far, Doing Group has successfully installed edible oil mill plant projects in more than 60 countries, such as Nigeria, Liberia, Ghana, Congo, Egypt, Ugand, South Africa, Tanzania, Ethiopia, Cameroon, Kenya, Cote dIvoire, Burundi, Rwanda, Sierra Leone, Senegal, Zambia and so on.
【Related reading: sunflower oil processing machine】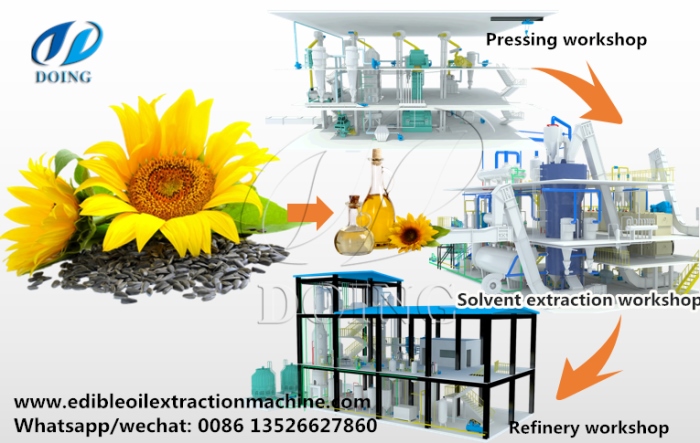 Henan Doing Company can provide various kinds of sunflower oil processing machines
After a thorough understanding of how to set up a sunflower oil mill plant in Tanzania, are you still interested in starting a sunflower oil processing business? If yes, please contact us for more details and information.