In Nigeria, the demand for palm oil is very high and remains relatively constant all through the year. This is one reason why the palm oil production business is a very viable one. With a good start-up capital, and the right business attitude, coupled with the right and necessary palm oil ptocessing steps, one could venture into the palm oil production business and see great returns in investment.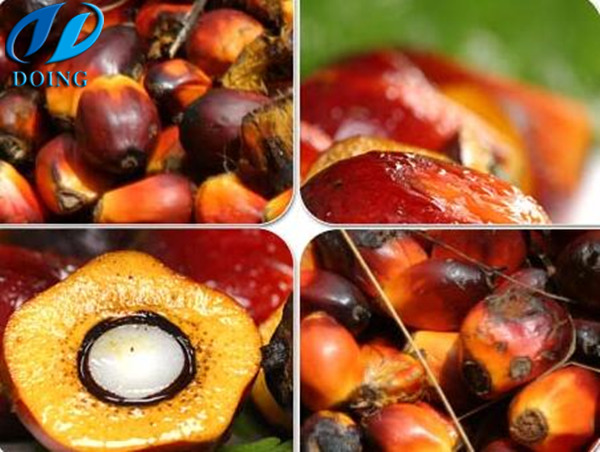 Palm fruit bunches
There is no debate about it, we are in need of more processing plants in the country both large scale and medium scale. As maanufacturer of palm oil processing plant, palm oil refining machine ,Henan Doing Company sincely hope can cooperate with the local people.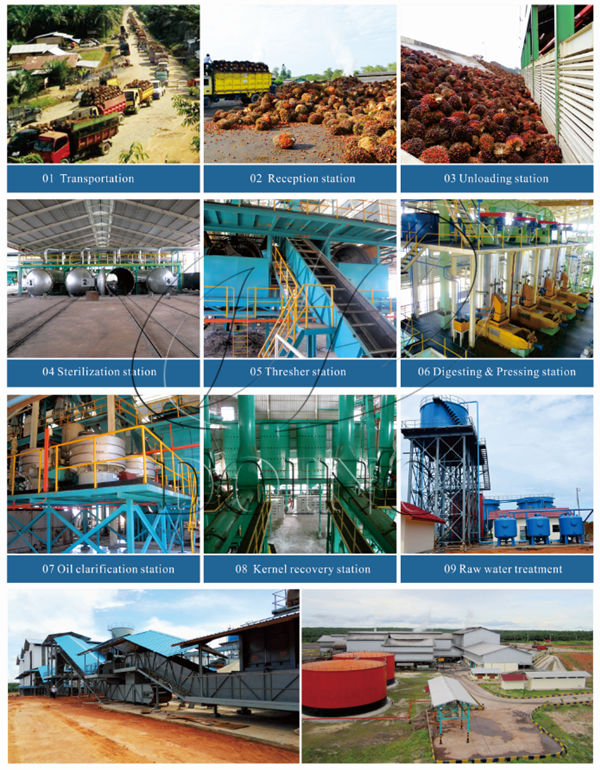 Main station involved in palm oil mill plant
The Steps Involved in Processing Palm Oil
There are six major steps when processing the palm fruit bunch to its final product – the palm oil. These steps are listed below accordingly:
(1)Weighing and Offloading from trucks;
(2)Sterilizing;
(3)Threshing;
(4)Pressing/Extracting the Palm Oil;
(5)Filtering of the palm oil;
(6) Storage of the palm oil;

After the whole work is done, they are stored in gallons or barrels, to be transported later to the market or for buying customers to come and pick up, as palm oil is often sold on-demand.

How To Start Palm Oil Processing Business In Nigeria? Maybe you need to know:
Find Suitable Space and Location
First, you will need a decent amount of open space for the palm oil plant. Then the next consideration is the distance the plant is from the nearest farm that can supply you with the palm fruits known as Fresh Fruit Bunches (FFB). The location should be able to accommodate a parking space for trucks for offloading the palm fruits.

Water Supply
You will need a constant water supply for the boiling/steaming of the palm fruit during processing. It has to be clean because hygiene is of utmost importance in palm oil processing. There is a high possibility of being located in a remote area where there is neither electricity nor treated water supply. So you might have to pay the water board to fix a pipe from the nearest town to your processing plant. Or a preferable alternative is to dig a borehole on site. That will save you a lot of money from paying water bills and it is always available whenever you need it.

The Palm oil production machine You Need
A palm oil mill is setup for the processing of palm oil. The mill does most everything in the palm oil processing operation such as the sterilizing, threshing, digesting & pressing, crude palm oil clarification etc. Depending on how much of the processing plant you wish to mechanize, the machines you need may vary. If for example the threshing is left to manual laborers, you wouldn't need a thresher. But of course there would be a wide gap when it comes to efficiency between the workers and the machine. Machines will perform faster and reduce waste significantly.

The most common machines found in a palm oil mill are the sterilizer, thresher, presser, and the clarifier. Each mill has a capacity rating, that is an amount of palm oil it can process daily. Small ones usually produce about 1 tons to 5 tons every 24 hours and medium to large ones produce over 120 tons daily. (The suppliers of the palm oil machinery provide tech support, they should be able to provide you with any information you need regarding the setting up of the palm oil mill and its maintenance.)

List of Required Items
This business is capital intensive, it needs preparation both monetarily and logistically. We will be adopting a medium scale model as it is the popular and practical model in Nigeria and is big enough to accommodate even for exporting. So the items that will be listed will reflect the medium scale business model.

Hire Trained Staff
The workers that will be operating the palm oil mill should be experienced in the job or at least they should have training on how to operate the specific set of palm oil machines available in your processing plant. But some workers don't require an extensive training, those responsible for offloading the fruit bunches and other manual labours.

You may also need among the staff professional engineers, chemical engineer for testing and evaluating of the oil product and mechanical engineer for the mill maintenance. Another option is to hire them temporarily whenever they are needed.