Good news, a small palm kernel oil processing plant project was successfully installed in Uganda. This palm kernel oil processing plant project mainly includes 2 sets production line, one is 5tph palm nuts production line, the other is 1tph palm kernel oil press production line.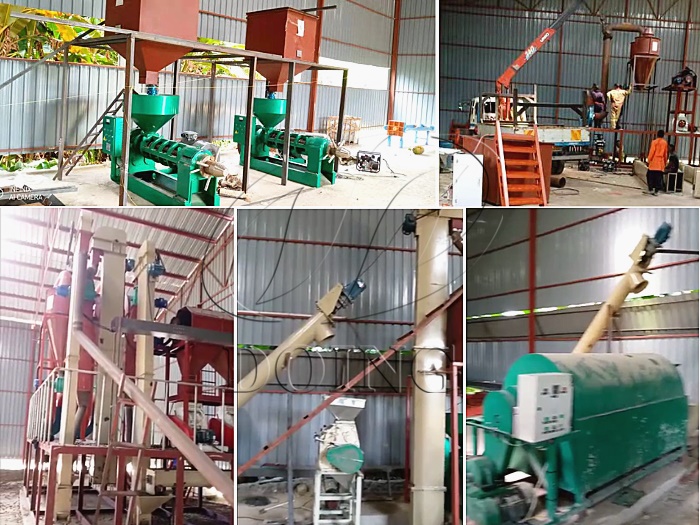 Palm nuts production line and palm kernel oil press production line
Before formally entering into cooperation with us, the Ugandan customer also compared several other palm kernel oil production equipment manufacturers. But after compared with various aspects, Ugandan customer ultimately chose to cooperate with Henan Glory Company. Customer confessed that: it is Doing Machinery's high standards of product quality, constantly updated technology as well as thoughtful service that let him make his final decision to make long-term cooperation with Doing Company.
Since the two sides reached a consensus, the next cooperation went very smoothly.
First of all, we communicated again and determined the final plan to buy 5tph palm kernel cracking and separating machine and 1tph palm kernel oil production machine and clarified the payment time and payment method.
Secondly, the Ugandan customer paid the advance payment of equipment according to the agreement, and Doing Company also started production according to the agreement.
Thirdly, Doing Company completed the production as agreed and informed the customer of the production situation. After understanding the situation through online video, the customer paid the final payment and freight for the equipment. After that, Henan Glory Company arranged the transportation and sent the bill of lading to the customer.
Fourthly, the Ugandan customer successfully handled customs clearance and shipped the equipment to the factory;
Finally, Henan Glory Company arranged the engineers to Uganda to assist customers to complete installation, commissioning and staff training.
The installation picture of palm kernel oil processing plant project in Uganda.
Henan Glory Company is a professional manufacturer and supplier of palm kernel oil processing machine. We have gained rich experience in setting up palm kernel oil mill plants of different sizes. We can provide customized products and services according to your requirements. The services that we can supply includes equipment selection, production, transportation, installation and commissioning, operator training, and more. You are very welcomed to contact us at any time for consulting palm kernel oil mill plant projects information! We are looking forward to be your partner!