For customers who are first involved in the palm kernel oil processing business, they will choose to buy small equipment to start the business. That's not hard to understand, for most people, the purpose of running a palm kernel oil plant is to minimize the capital and operating coast, and maximize the incomes from the sales of oil and other by-products. Therefore, small scale palm kernel oil processing machine has become their first choice to do palm kernel oil processing business with minimal investment and risk. Next, let's learn about the unique advantages of small scale palm kernel oil processing machine.
◆1, Need small investment, fewer land space and labor;
◆2, Easier to operate, easier to install and commissioning;
◆3, Wide application that can make many other kinds of vegetable seeds , such as soybeans, peanuts, cotton seeds, sunflower seeds, sesame seeds, coconut etc.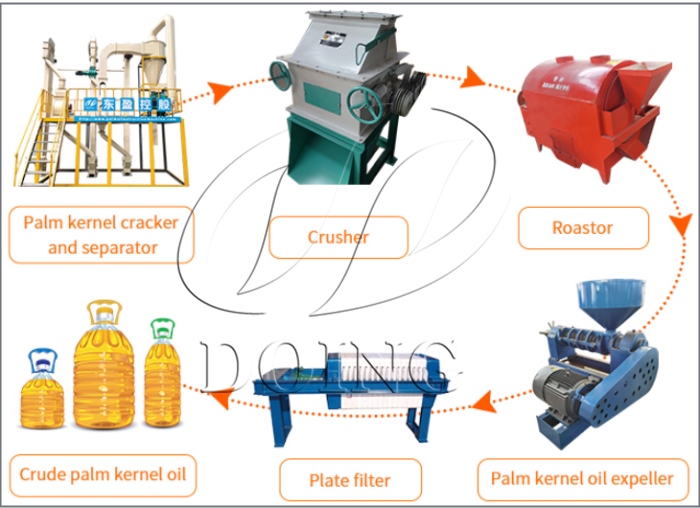 Major equipment of small scale palm kernel oil processing machine
After learning about the advantages of small palm oil processing machine, you might be wondering the detailed production process of palm kernel oil, please read on.
The process of making palm kernel oil with small scale equipment is also called pure physical pressing process. Five procedures are generally included, shelling, crushing, roasting, oil pressing and filtering. Here is the details and features of the small scale oil production machine:
1, Palm Nuts Shelling Process
Put the palm nuts into professional palm nuts cracker to remove the shells and get the palm kernel. As a professional palm kernel oil processing machine manufacturer, Henan Glory Company not only can supply the palm nuts cracker machine, but also can palm kernel cracking and separating machine, people can make a choice according to their own specific situation.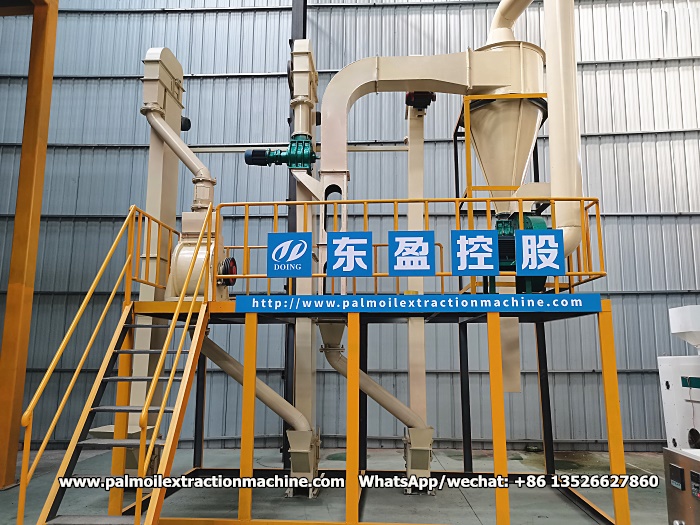 Small scale palm kernel cracker and separator machine
2, Palm Kernel Crushing process:
Due to palm kernel is hard and big, so we usually need to use palm kernel oil crushing machine to crush palm kernel to small pieces. It facilitates the transfer of temperature and moisture during palm kernel oil roasting process.
3, Palm Kernel Roasting Process
The palm kernels are then put into the roasting machine with automatic temperature control system to process. It is the key step to ensure us get more palm kernel oil. Experienced operators can control the cooking temperature and time very well to get high oil yield.
4, Palm Kernel Oil Pressing Process
A good unit of palm kernel oil press machine can not only save a lot of trouble in palm kernel oil processing business, but also can reduce production cost and increase profit. Actually, It is best to use special palm oil pressing equipment for palm kernel oil pressing.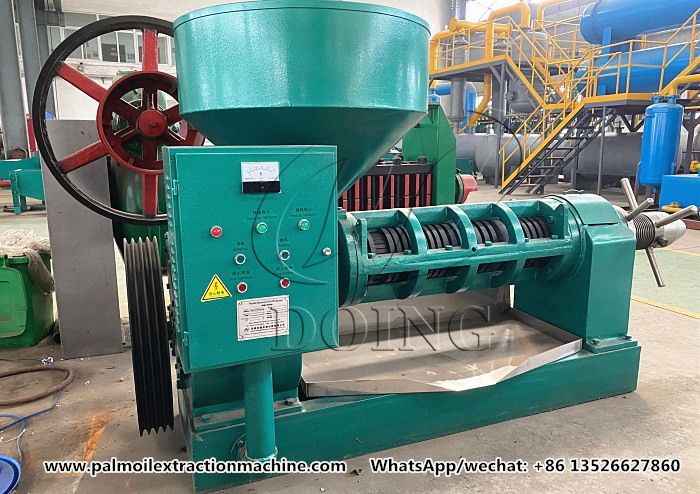 500kg/h palm kernel oil pressing machine
5, Palm Kernel Oil Filtration Process
The oil expelled from palm kernel oil press machine might looks a little muddy, and doped with some foam. So filter press is needed to ensure the purity of palm kernel oil with gold color and good flavor.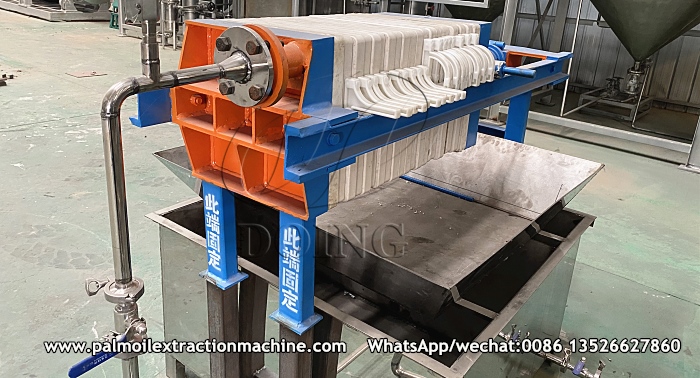 Plate and frame filter machine of palm kernel oil processing machine
If you are planning to buy high quality palm kernel oil processing machine, Henan Glory Company maybe a good choice. We are a manufacturer with more than ten years of production experience, we can provide customers with a full set of equipment solutions and cost-effective equipment to help you start palm kernel oil processing business successfully.