If you want to get 0.5-1 tons of sunflower oil per day, you need a sunflower oil processing machine that can process about 1-2 tons of sunflower seeds. So, how to get a small scale sunflower oil processing machine? Here are some suggestions from Henan Glory Company:
First of all, you need to know what equipment is included in a complete small scale sunflower oil processing machine and their respective functions, which will be of great help to you on how to choose the right sunflower oil processing machine. Usually cooker, pressing machine, and filtering machine can meet the daily production needs. Of course, if the budget is sufficient, you can choose cleaning machine to make the raw materials cleaner and get cleaner sunflower oil.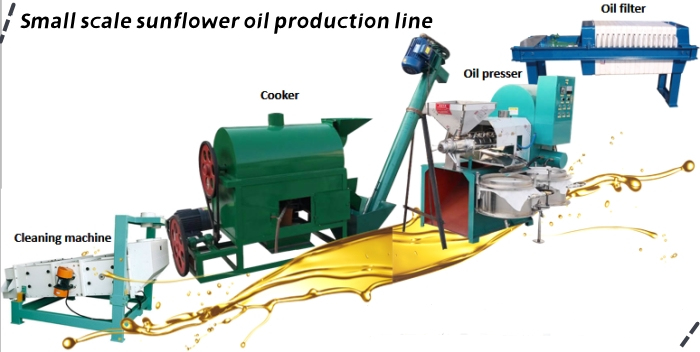 Complete small scale sunflower oil processing machine
Cleaning machine is used to remove impurities such as soil and metal in sunflower seeds. Shelling machine is used for shelling sunflower seeds to reduce the residual oil rate. Cooker is used to adjust the temperature and humidity of raw materials to improve the oil yield. Pressing machine is the core equipment in the pressing production line, used to press raw materials to obtain crude oil. Finally, filtration machine can remove impurities such as fibers in crude oil, making the oil cleaner and improving the quality of crude oil.
Secondly, you need to choose a reliable cooking oil processing machine supplier. Henan Glory Company has more than ten years of experience in the field of cooking oil processing machine manufacturing. We have a professional technical research and development team and production workshop. More importantly, we provide you with one-stop services from scheme design, equipment order, equipment transportation, equipment installation, equipment operation and after-sales to ensure the smooth progress of your production. Henan Glory Company is looking forward to cooperating with you.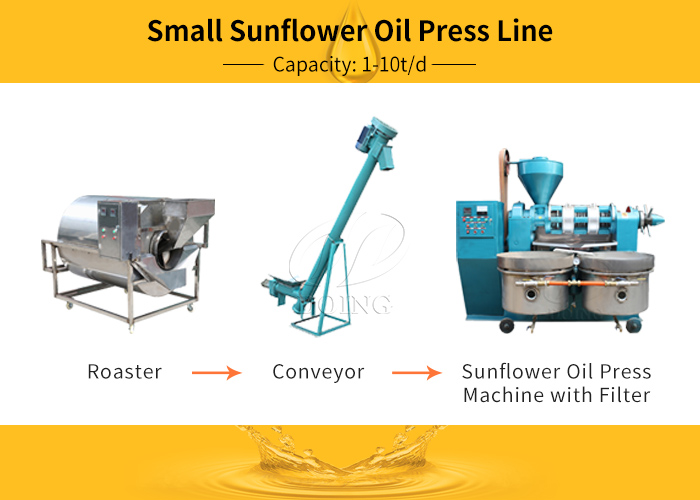 Cooking oil processing machine of Henan Glory Company
[Related reading: Sunflower oil processing machine]
If you want to know more information, please feel free to contact us, we have a professional sales team and engineer team that can provide you with a suitable small scale sunflower oil processing machine according to your budget and needs. Our contact information is: +86 13526627860.