Our company is professional in corn germ oil mill plant design, installation, trial run, technical trainning and so on. We can provide you turnkey project of the whole corn germ oil mill plant from10 to 6000TPD .In general, corn germ oil mill plant devides to 3 section, corn germ oil press machine,corn germ oil extraction machine and corn germ oil refining machine.
Next we will introduce the whole corn gemr oil mill plant from corn germ to corn germ oil: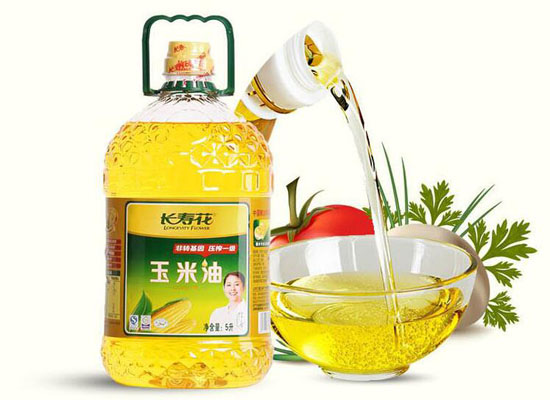 Corn germ oil
Corn germ introduction:
The corn germ is the necessary part of the corn grain to make corn oil and it can also be used in feed formulations. Usually the corn/maize germ is around 8% percentage in the total corn grain, and the corn/maize germ's oil content is approx 50%. The corn crops are abounded in the American countries and China is also the big country to plant corn.

The corn germ oil contains much saturated fatty acids (80% palmitic acid, 14% stearic acid and 3% arachidic acid). And it is also rich in protein, amino acids, vitamin E (tocopherol), beta-sitostiron and phytin. So it is widely used for cooking oil, biodiesel and sometimes used as ingredient in the margarines. What's more, it is relatively less expensive than most other types of vegetable oil.

Introduction of corn germ oil mill plant :
Corn germ oil is extracted from corn germ as raw materials, high nutritional value. Henan Doing Company corn germ oil mill plant has been very skilful, process technology of corn germ oil generally includes the corn germ pretreatment and press machine.corn germ oil solvent extraction machine and crude corn germ oil refining, etc.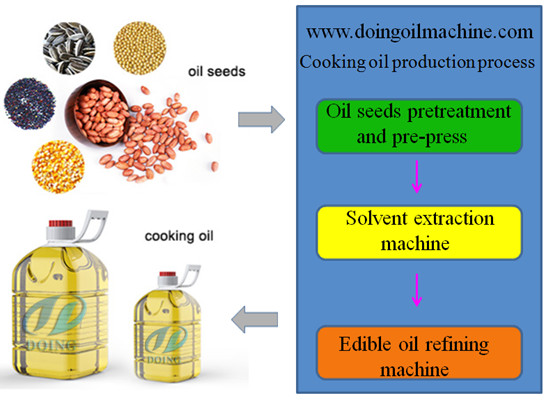 Corn germ oil mill plant
Corn germ oil mill process flow chart:
Corn germ——Cleaning machine——Softening machine——Flaking machine——Cooking machine——Pressing machine——Crude corn germ oil

Main process of corn germ oil mill plant:
Magnetic separation and screening separation: Corn germ first by magnetic separator or a horseshoe magnet removes metal germ inside, so as not to damage the production equipment.
Softening: Softening is intended to regulate the temperature and moisture content of corn germ, to increase the plasticity and prevent to produce too much powder.
Flaking : The thickness of corn germ is 0.2-0.3 mm. This prossess can influce the oil yield and the production capacity of the main equipment.
Cooking: Good cooking effect depends mainly on the temperature, moisture, time.Cooking process, the oil is heated, adjust the water to the ideal state.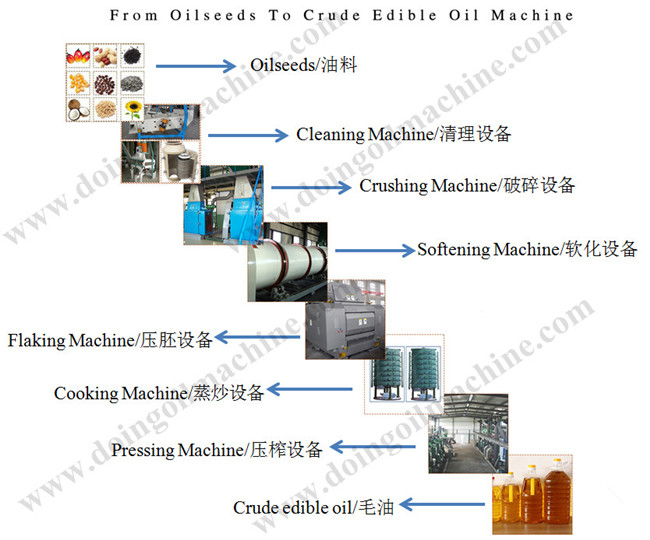 Corn germ oil extraction process machinery
Corn germ Oil press machine :
1.When corn germ oil press machine is on work, material enters the extruding chamber from the hopper and then moves forwards by the rotating pressing screw and is pressed.

2.Under high temperature condition in the chamber, there is quite strong friction among press screw, chamber and the oil materials.

3.On the other hand, root diameter of the pressing screw carries larger from one end to the other.

4.Hence when rotating, the thread not only pushes particles moving forwards but also turns them outwards as well.

5.Meanwhile, particles adjacent the screw will rotate along with screw's rotating, causing every particle inside the chamber to possess different speed.

6.Therefore, relative movement among particles creates neat which is necessary during manufacturing because of helping protein change property, damage colloid, increase plasticity, decrease oil's elasticity, resulting in high oil.

Introduction of corn germ oil solvent extraction machine:
Solvent extraction refers to the process of extracting oil from oil bearing materials by means of solvent. Solvent always use a petroleum by-product, usually Hexane. Solvent extraction plant, however, is one of the most important oil plants in the entire oilseed processing.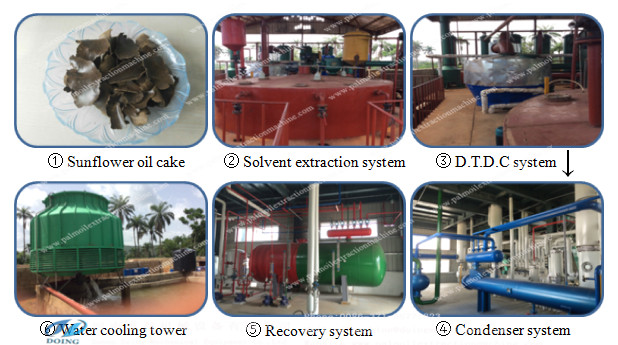 Main equipment of corn germ oil solvent extraction machine
Solvent Extraction Plant Introduction:
The solvent extraction plant is part of corn germ oil extraction machine which is designed to extract oil directly from oil seed containing less than 20% oil like soyabean fter flaking or it extracts oils from prepressed or fully pressed cake of seeds containing more than 20% oil like sunflower, peanuts, cotton seed, palm kernel, canola, copra, castor and variety of other materials.
In order to meet different clients' requirement on different solvent extraction plants, we established a large scope of solvent extraction equipments with capacity from 20T to 100T. The oil grade after refined can reach to Grade 1, Grade 2, Grade 3 & Grade 4 Oil etc.

Introduction of corn germ oil refining machine:
Corn germ oil refining machine refers to a series of refining processes that can remove phospholipids, FFA, pigment, off-flavor and other impurities in the oil. Edible oil refinery or vegetable oil refinery is essential to ensure removal of gums, waxes, phosphatides and free fatty acid (F. F.A.) from the oil. To impart uniform colur by removal of coloring pigments and to get rid of unpleasant smell from the oil by removal of odiferous matter.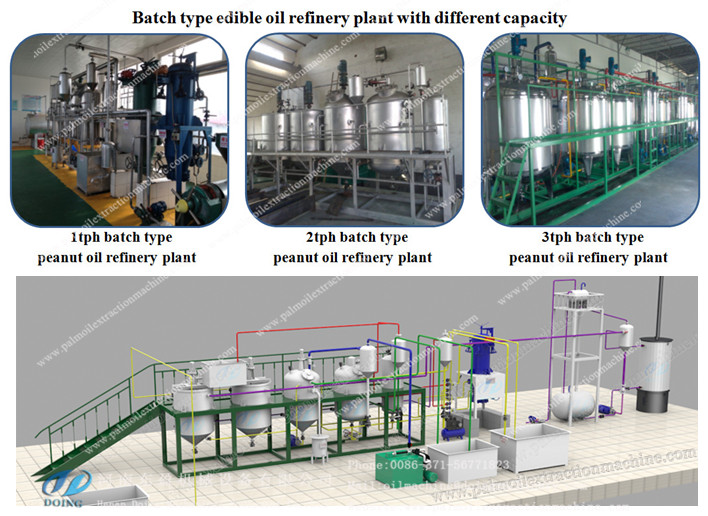 Small scale corn germ oil refining machine
Corn germ oil refining machine:
Corn germ oil refining machine usually includes the following sections: Degumming, Neutralization, Bleaching, Deodorization and Dewaxing. The process of removing these impurities after oil extraction section is called oil refining. The crude oil obtained either from expellers or solvent extraction plant contains impurities, which must be removed to make the oil edible, more palatable and stable against rancidity upon storage.