Nowadays, more and more people are interested in setting up palm oil mill factory. Thus they want to know what are the necessary equipment for palm oil production industry. In fact, It is decided by the palm oil mill project scale you plan to build.
Here I am glad to introduce to you what equipment are suitable for different palm oil mill factory.
At first, if you want to start small palm oil processing business with small capacity 1-5T/D, meanwhile you prefer stand-alone palm oil press machine to complete palm oil mill factory, you can choose stand-alone palm oil press machine. We have 300-500kg/h,1t/h-15t/h palm oil press machine for your choice. [Related reading: 300-500kg/h palm oil extraction machine]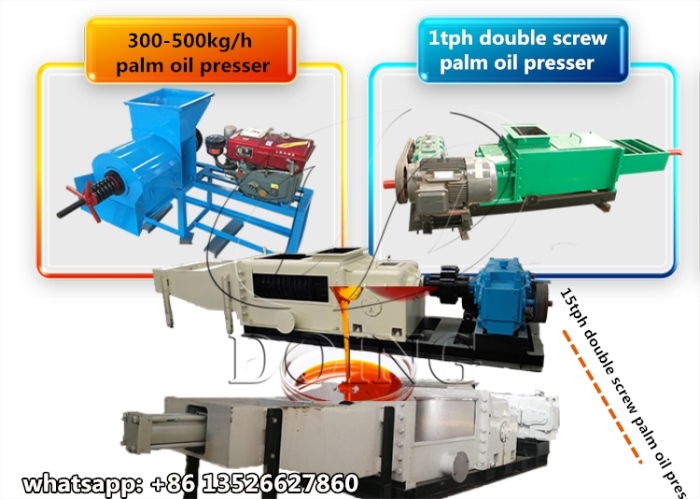 There three types palm oil press machine can be choosed
Secondly, if you want to build a complete palm oil pressing plant, the necessary process mainly includes : raw material reception station , sterilization station, threshing station, digesting &pressing station, oil clarification station, and kernel recovery station.
The first step is raw material reception station, generally you collect the ripe fresh palm fruit bunches from plantation and transported by trucks, then pour FFB into discharge door after weighed by weighbridge. After that, the FFB will be transported to the following sterilization station.
The coin equipment of sterilization is sterilizer. Sterilizer is used to sterilize palm fruit bunches, the purpose is to break the enzymes in fruit and avoid the increasing of FFA content in oil.
After the end of the palm fruit sterilization process, the sterilized palm fruit bunches will be transported to threshing station. In complete palm oil pressing plant, we usually use drum type thresher to separate palm fruit from bunches. Finally the palm fruit is sent to digesting&pressing station ,and the empty bunches can be sent to yard for use fuel, fertilizer of oil palm plantation.
The next necessary equipment is digesting&pressing machine. It is the most important machine in the whole complete palm oil pressing plant. Digesting machine is used to crush palm fruit, it helps increase oil yield. Palm oil press machine is used to press palm oil from palm fruit. Generally, specially designed double screw palm fruit oil press machine is very popular.
After palm oil digesting & pressing station, the next major process is oil clarification station. We use vibrating screen, oil clarification tank and so on to purify oil, to make it more clear.
Finally is palm kernel recovery station. As we all know, after palm oil pressing process, you will get CPO and pressed cake( fiber & nut mixture), because the palm kernel is a good value by product that can be used to extract palm kernel oil. Now more customers tend to recovery palm kernel. If you really want to recovery palm kernel, some palm oil processing machine will be extremely important, they are fiber separation machine, polishing machine, palm kernel cracking and separating machine. Through these machines, we can get pure palm kernel that can be stored or be sold to palm kernel oil mill plant. [Related reading: Large scale palm oil processing machine]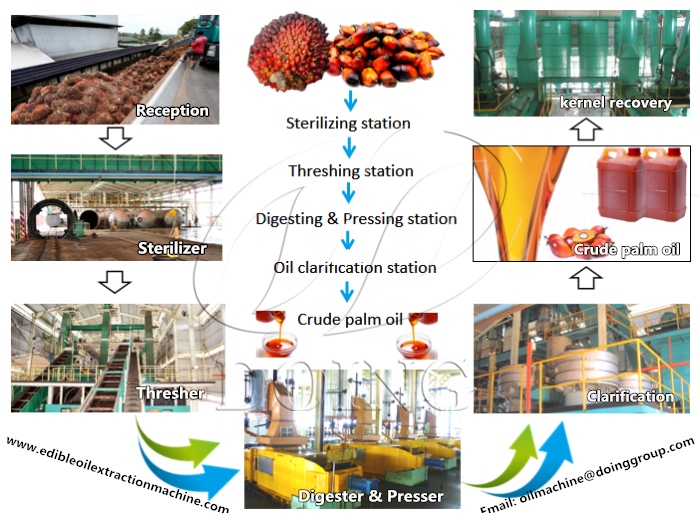 Large scale palm oil processing machine
Above palm oil processing process usually is suitable for building palm oil pressing plant with 10t/h -120t/h. The technology process are complete, and the initial investment cost is higher. But the automatic process are best.
If you want to set up small scale or medium complete palm oil pressing plant. We Henan Doing Mechanical Equipment Co.,ltd design the the palm oil processing plant based on large complete palm oil processing plant. It is suitable 1-7t/h capacity.
The process mainly include sterilizer, threshing, digesting, pressing, oil clarification, water drying system. Finally you get high quality CPO and by product—mixture palm nut and fiber. [Related reading: Small scale palm oil processing machine]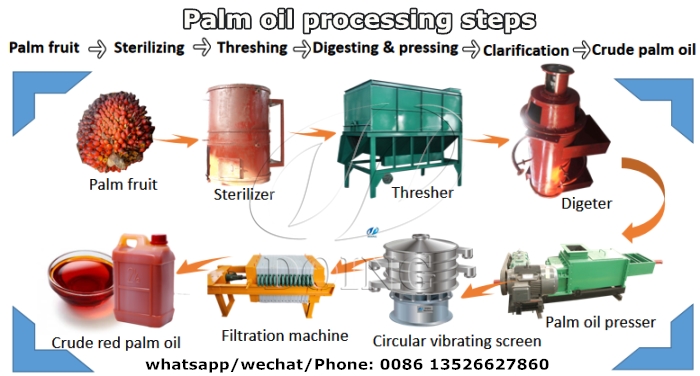 Small scale palm oil processing machine
Henan Doing Company is committed to provide palm oil processing machine and palm kernel oil processing machine for many years. We have done many palm oil mill projects and palm kernel oil mill projects for customers all over the world. Such as Indonesia, Malaysia, Nigeria, Tanzania, Ghana, Mexico and so on. If you are interested in our palm oil processing business and want to start a palm oil mill plant, Please contact us any time.