Sunflower oil is one of the five most promising oils in the world. It is good for health. Nowadays, not only the largest sunflower seed producer country Argentina but nearly all rest countries in the world are starting sunflower oil processing business. But how to make the sunflower oil? What are the steps of making sunflower oil? Here, we summarized the production steps of making sunflower oil in sunflower oil mill, I am sure that will be helpful.
At present, there are two main production processes in sunflower oil production, namely mechanical pressing and solvent extraction. They all widely used in sunflower oil production process, as for which technology to choose is decided by your sunflower seed capacity, output market, factory requirement, local policy and so on.
The main steps for mechanical pressing technology is:
Cleaning-husking-cracking-flaking-cooking-pre-pressing-pressing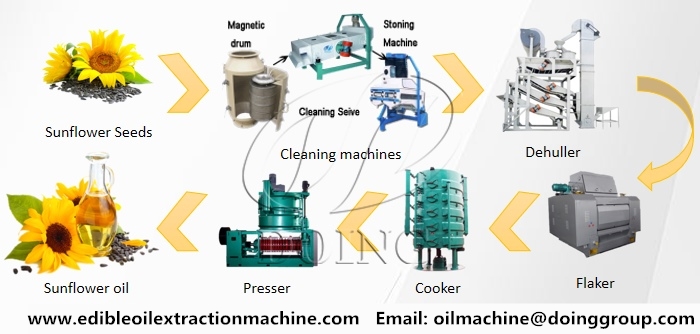 In order to get high quality sunflower oil, firstly, we need to use cleaning machine to remove impurities in sunflower seeds. Next, we need to use husking machine to remove the sunflower shell to get pure sunflower seeds. Then we need to use cracking machine, flaking machine, cooking machine to regulate moisture and temperature of sunflowers and change sunflower seeds molecular structure. After finishing the above steps, the sunflower seeds will reach the best situation of pressing. All prepared sunflower seeds will be sent to sunflower oil press machine to extract sunflower oil out.
The main steps for solvent extraction technology is:
Cleaning-husking-cracking-flaking-cooking-pre-pressing-solvent extraction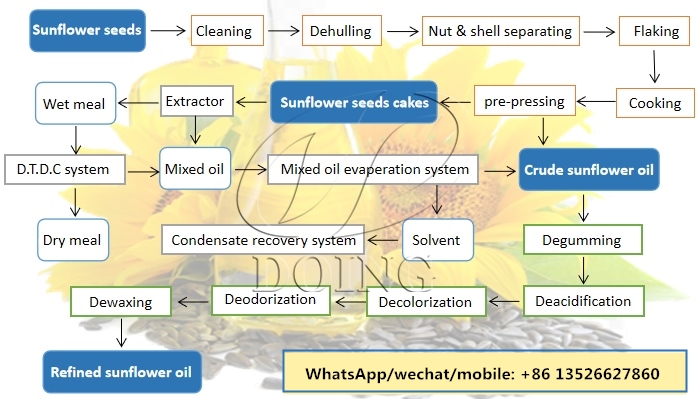 Sunflower oil pretreatment pre-pressing and solvent extraction process flow chart
The working principle of solvent extraction technology is the same with mechanical press technology. Firstly, we need to use a series of sunflower oil making machines to make the sunflower seeds reach the best situation of pressing. And then, the prepared sunflower seeds will be sent sunflower oil pre-pressing machine to extract a part of sunflower oil out.The next sunflower oil production step is that the pressed sunflower cake will be transported into the sunflower oil solvent extraction plant to extract the residual oil in sunflower cake.
Both Mechanical press way and solvent extraction way have their own advantages which suitable for different sunflower oil production situation. Mechanical press way oil residue (5-7%) will be more than solvent extraction way(lower than 1%), but aiming to small capacity lower than 50tpd, its investment cost will be lower. If your production capacity larger than 100tpd, solvent extraction technology investment cost will be lower than mechanical press way.
If you want to process sunflower seeds within 1-10tpd, starting with the whole sunflower oil processing line will be not economical. We Henan Doing Mechanical Equipment Co.,ltd engineer suggest you to buy one set integrated sunflower oil press machine with filter and a roller cooker. That will be profitable for a starter.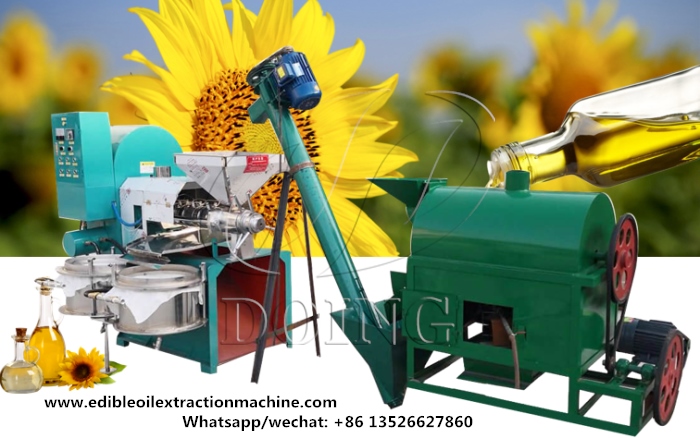 1-10tpd sunflower oil sunflower oil making machine
Of course, if your output requirements different, sunflower oil production way will be different followed. Like our project in Tanzania, the owner also want to get good quality sunflower cake for animal feed. Even his capacity just 20tpd, he also decided to start solvent extraction method.
If you have special requirements for sunflower oil mill plant project, please leave your contacts, we will design tailored-made plan for you to reach your sunflower oil and cake standard.