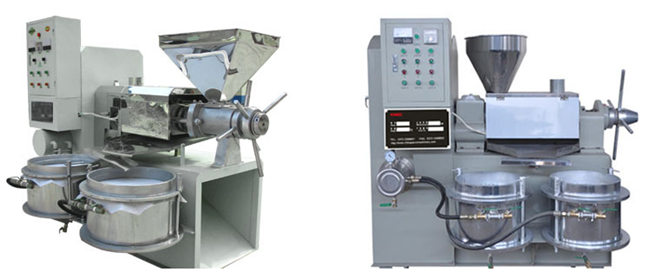 Integrated corn germ oil press machine with filter
The automatic corn germ oil press, also called integrated screw oil press machine or integrated corn germ oil press machine with filter, adopts vacuum filtering device and new oil guiding technology to realize automatic filtering and produce pure oil. Simultaneous oil filtering and pressing of automatic oil press greatly improves the speed of filtering. Convenient and practical, the integrated corn germ oil press is the ideal choice for users. More than 20 kinds of oil crops like peanut, soybean, rapeseed, sunflower seed and cottonseed can be processed with the automatic oil press machine.
The integrated corn germ oil press machine with filter mainly consists of three parts as following: Screw oil press, heating element,vacuum filtering system. Therefore, such integrated oil press machine could supply better quality edible oil for consumption. Also one PLC display has been installed for controlling feeding, oil flowing speed, chamber heating etc. So manpower can be saved and work efficiency can be improved as well.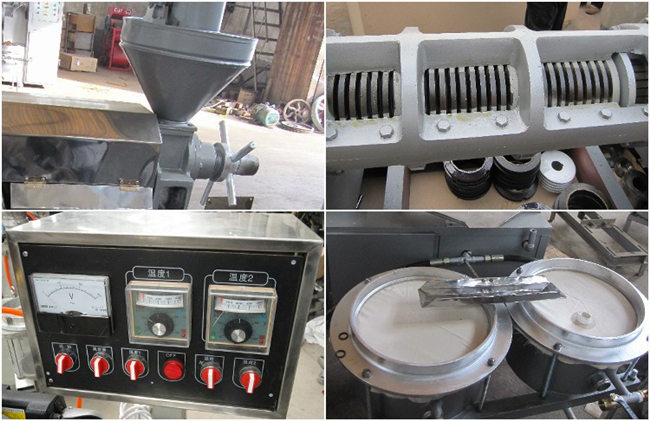 Integrated corn germ oil press machine
5 Reasons to Choose Integrated Corn Germ Oil Press Machine With Filter
★ Wide application for various vegetable oil seeds such as peanuts, soybeans, sunflower seeds, sesame seeds, cottonseed, rapeseeds, palm kernels and so on.
★ Covering small space and easier to operate. Electric control cabinet makes the operating safer and easier. More efficient and labor-saving.
★ Continuous working with low noise.
★ High rate of oil yield with purer oil and good condition oil cakes. Vacuum filters in the machine help cleaning oils.
★ Be able to do both cold and hot pressing with automatic temperature rising and oil-cleaning system.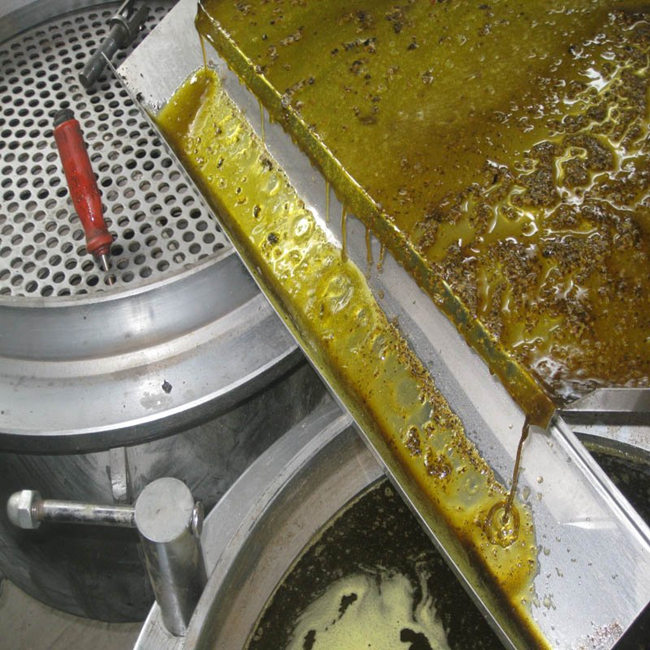 Integrated rapeseed oil press machine working site
Application of integrated cottonseed oil press machine with filter:
The integrated cottonseed oil press machine with filter could extract vegetable oil from all kinds of oilseeds, such as soybeans, sunflower,peanuts, cotton seeds, sesame, tea seeds, copra, palm kernel, jatropha seeds, castor seed,maize and olive, etc.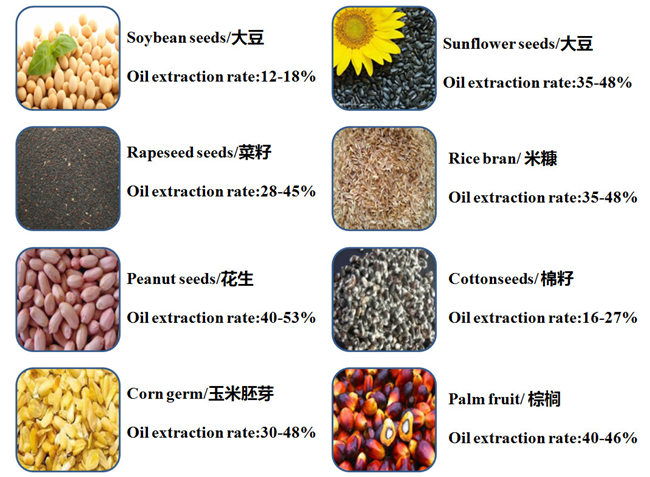 The commen oilseeds
Oil Extraction Rate:
| | | | |
| --- | --- | --- | --- |
| Raw material | Output Rate(%) | Thickness of Oil Cakes (mm) | Oil Content of Dry Cakes (%) |
| Canola | 30-38 | 1-1.5 | ≤7.5-8 |
| Cotton seed | 12-14 | 1-2 | ≤6.5-7.5 |
| Soybean | 10-16 | 2-2.5 | ≤6.5-7 |
| Peanut seeds | 35-45 | 1-2 | ≤7 |
| Sesame | 42-47 | 2-2.5 | ≤6.5-7.5 |
Main Specifications of integrated corn germ oil press machine:
We offer integrated corn germ oil press machines with different models and capacities. Below are the technical data of each model.
Model

Input Capacity(kg/h)

Power(kw)

Speed of screw
worm
(r/min)

Weight(kg)

Dimension L*W*H
(mm)

DY-68A

40-60

5.5+1.5

137-160

450

1780×700×1320

DY-80A

80-100

5.5+1.5

80-100

700

1480×630×1570
1060×575×620

DY-95A

150-180

7.5+1.5

33-39

950

2100×970×1970
1180×650×580

DY-100A

150-180

7.5+1.5

36-39

1000

2250×890×1820
1230×640×570

DY-105A

160-200

11+1.5

33-39

1200

2260×950×1800
1310×730×580

DY-120A

200-250

15+1.5

32-39

1300

2280×890×1770
1350×700×570

DY-130A

250-300

18.5+1.5

32-36

1500

2350×840×1850
1350×700×570
Note:
1.The technical para. of the table refers to matching the cleaning, peeling, flaking, steaming and roasting accessories machinery, etc, steady operation, and adopts the hot pressing method to achieve the indicators.

2.the actual output may be slight different due to the difference of raw materials in terms of oil varieties, qualities and oil contents, as well as the working conditions.

3.Raw material feeding (kg/h) refers to the capacity after once hot press, and it would reduce to half of it if twice and one third if three times.

4.The machine meets the JB/T9793.1-1999 "agricultural screw oil press technology conditions", and Implement the national regulations of Warranty Services policy of P.R. China.