If your browser can not play the video, you can change the higher version of the browser or download the video to the local broadcast.DOWNLOAD
More and more people want to be in the peanut oil production business, but what types of peanut oil processing plants are there? What equipment is included in the peanut oil processing plant? How does peanut oil processing equipment work? This article will give you detailed answers.
The processing of peanut oil can be divided into small, medium and large scale processing plants according to the processing capacity.
First of all, for small scale peanut oil processing plants, the processing capacity is usually below 10TPD. It mainly contains roaster, conveyor, oil presses and frame filters. These equipment can meet the basic processing requirements in the peanut pressing process. The roaster can adjust the temperature and humidity of the peanuts, so that the peanuts can reach the ideal state of oil production and get more peanut oil. The oil press, which is constantly debugged by our engineers, can achieve a 6% residual oil rate. Plate and frame filtration equipment can remove impurities and some water from the gross oil, improving the quality and shelf life of edible oil.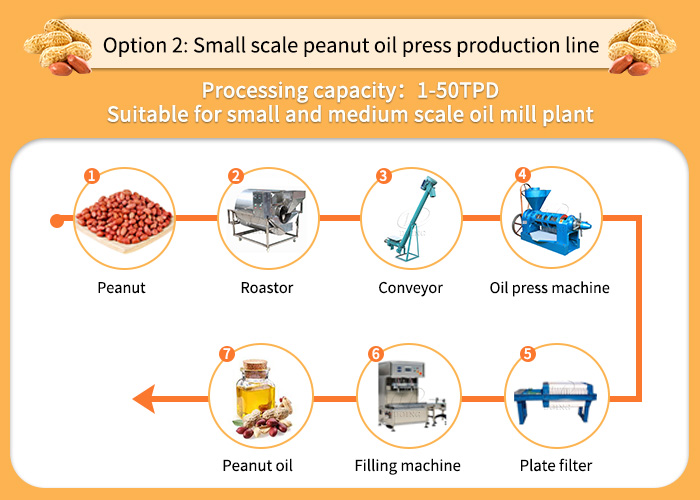 Small scale peanut oil processing equipment
For medium-sized peanut oil processing plant, the processing capacity is generally 10TPD-50TPD. The main way to obtain the gross oil by pressing. However, in order to further improve the quality of the crude oil, we will add cleaning equipment such as magnetic separator, vibrating cleaning sieve, wind separator, etc., to remove impurities such as leaves and metals from the raw material before steaming and pressing. This will further improve the quality of the oil and reduce the wear and tear on the pressing equipment. At the same time, after the press, we will add more perfect gross oil cleaning equipment.
For large scale peanut oil processing plants, the processing capacity is usually more than 50TPD. In order to improve the oil yield and further improve economic efficiency, We will divide the whole processing process into pre-treatment workshop and solvent extraction workshop. The pre-treatment plant mainly performs preliminary cleaning and pressing of peanuts. The oil cake obtained in this workshop will be transported to the solvent extraction workshop, where the chemical reagent n-hexane is used to leach the oil cake and get more gross oil. At the end of the whole process, the residual oil rate can be less than 1%.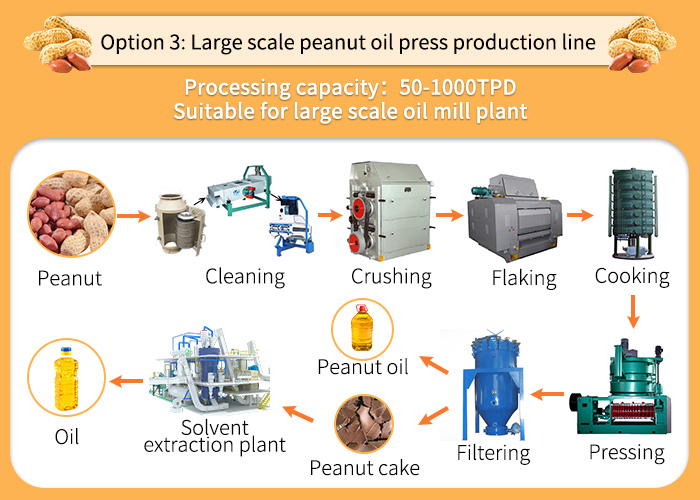 Large scale peanut oil processing equipment
We have a team of professional engineers who can provide customized services according to your specific needs and budget. If you are interested in our equipment, please feel free to contact us, we can also provide a complete set of peanut oil processing equipment such as refining, and packing plant. Please feel free to contact us at +86 13526627860.