Soybean oil pretreatment & prepressing machine is the first step to process soybean seeds. soybean seeds processing generally refers to the process of extracting oil from oil seeds. The whole processing begins with oilseed cleaning, and ends with oil pressing.The oilseeds pretreatment and prepressing machine include cleaning section, crushing section, softening section, flaking section, cooking section and oil press section.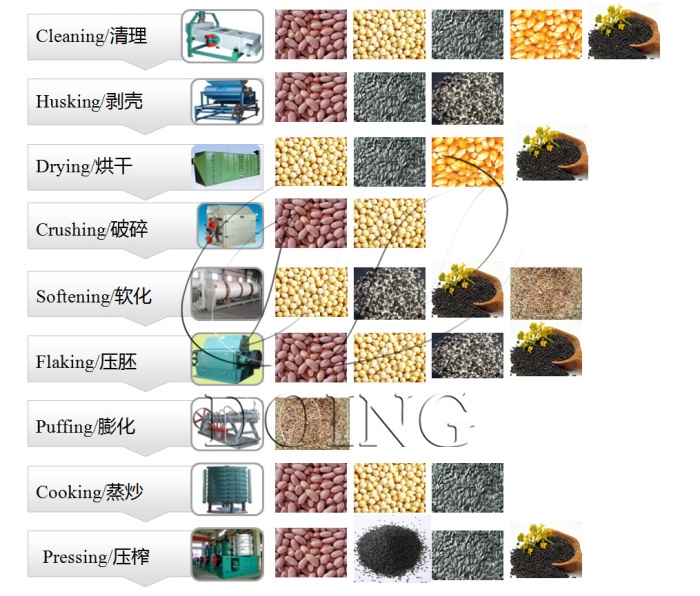 Soybean oil pretreatment and prepressing machine photo
Considering the characteristics of oil seed and customers' requirement, we can provide the special design to adjust oil seeds to the best state, which is convenient for the following soybean oil processing process, and easy to improve oil yield.
Soybean Oil Pretreatment Processing Process:
Soybean seeds-Cleaning-Crushing-Softening-Flaking-Cooking-Prepressing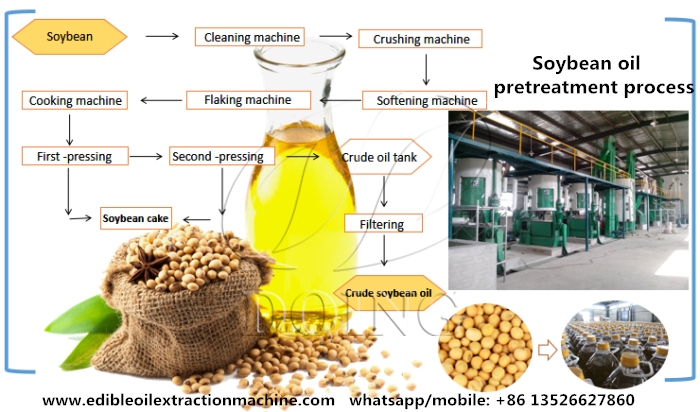 Soybean oil pretreatment and prepressing process flow chart
Soybean oil pretreatment & pre-pressing process before soybean oil extraction:
Different kinds of oilseeds have different oil content and physical properties. So the pre-treatment process varies slightly from one kind of seed to another. But most seed pre-processing includes cleaning, crushing, flaking, cooking and pressing. Below are typical oil seed pre-treatment processes of soybeans, canola seeds and sunflower seeds.
Main equipments of soybean oil pretreatment & prepressing machine:
Usually, soybean oil pretreatment & prepressing machine always including the following machine:
Cleaning: Remove impurities such as leaves, sticks, stones, sand, dirt, spoiled seeds and metal contaminants. This process is commonly referred to cleaning and scalping equipment including sieve, destoner, peeling machine, magnetic devices, and belt conveyor etc.
Crushing & Flaking: Most oilseeds require size reduction prior to oil extraction. Crusher and flaker are used in soybean oil pretreatment & prepressing machine. Some small seeds such as corn germ, rapeseed and canola don't need to be cracked.
Cooking: Heating the seed is an option, but not necessary. It can increases efficiency of extraction and protein availability.
Pre-pressing: The soybean oil prepressing machine adopts domestic mature DY series pre-presser which specialized for soybean, the oil residue in cake after pre-pressing is about 10-18%, the soybean cake can adopt solvent extraction method to get more oil. The most features of this machine is low energy consumption, less occupied area, etc which is the first choice for soybean oil pretreatment & prepressing machine.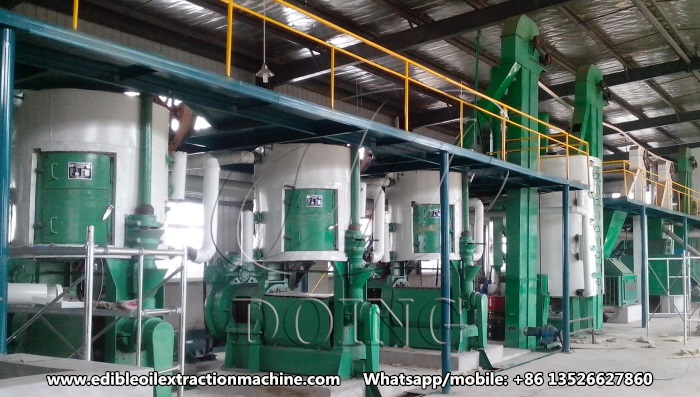 Large scale soybean oil pre-pressing machine
Our Service & Guarantee
1)Provide turnkey solutions for soybean oil pretreatment & prepressing machine;
2)Responsible for installation and commissioning, staff training.
3)Customized each project according to customer's market, so that to build the most appropriate plan for soybean oil making machine;
4)Complete set of after-sales service.
5)We can guarantee the low energy consumption in the process of soybean oil pretreatment & prepressing machine.
Do you want to get one professional designed soybean oil pretreatment and pre-pressing solution? Do you want to buy one set the most suitable soybean oil processing machine? Welcome to contact Henan Doing Company, you will get to the you want.