The promising and profitable palm oil processing market has attracted more and more people to buy palm oil processing equipment for palm oil processing. In the process of selecting palm oil equipment, Henan Glory Company has become the first choice of customers because of its rich experience, advanced technology and perfect after-sales service. In the process of trade, we found that many customers knew little about the equipment import process and customs clearance documents. In this regard, we make the following arrangement, I hope it is helpful to you.
1.The process of importing palm oil processing equipment:
(1) Contact Henan Glory and tell us your palm oil processing equipment requirement, then our sales manager will contact you and customize suitable processing solution according to your real situation. After confirming processing solution, our sales manager will offer you the palm oil processing equipment quotation list for you. After full negotiation and confirmation, Glory Company and the customer two parties can sign the contract.
(2) The sales manager will make a proforma invoice for you, you go to the bank to issue payment by T/T. At the same time, our company will add the order to the company's list and put it into production of palm oil processing equipment as soon as possible.
(3) After completing the equipment production, our sales manager can assist you to contact shipping agent and arrange to delivery palm oil processing equipment by shipping or by yourself, the customer prepares for receiving the equipment after delivery.
(4) Our sales manager will send you the documents, after receiving a full set of documents, go through customs clearance and commodity inspection, or entrust a local freight forwarder to complete the delivery procedures and settle all customs clearance fees.
(5) Pick up the palm oil processing equipment in your port.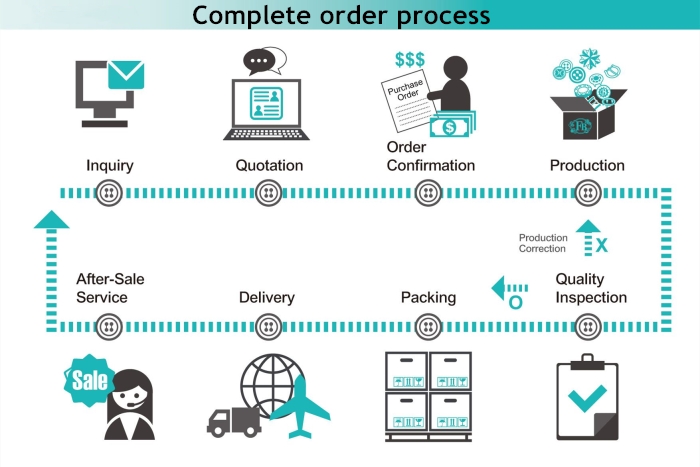 Complete order process
2.What documents are needed for custom clearance?
(1)B/L means bill of lading: Refers to a document used to prove that the maritime transport contract and the goods are taken over or shipped by the carrier, and the carrier guarantees delivery at the port of destination.
(2)CI means commercial invoice: It is a list issued by the seller containing the name, quantity, price, etc. of the goods
(3)PL means packing list: Generally refers to the list of commodities provided by the seller to the buyer, including quantity, size, weight, model, etc.
The above three documents are necessary for you to custom clearance, but different countries have different requirement, if your customhouse still need other documents, such as CO (certificateoforigin), Quality inspection certificate, etc, you can contact relevant agent to make it for you, or find contact your sales manager help you contact agent.
If you are interested in palm oil processing equipment, please contact us, we have the professional engineers team and rich experience. Contact us! Henan Glory Oils & Fats Engineering Co., Ltd will give you most suitable palm oil processing solutions!