In palm oil production process, we need to use many palm oil processing machine, palm fruit sterilizer is the first equipment to be used in the process of palm oil processing. It's mainly used to is to boil the palm fruit bunch to facilitate the separation of palm fruit from bunch.

Palm oil processing
As we all know, mature palm fruit bunches collected from palm orchards cannot be directly processed as raw materials for palm oil processing. Otherwise, on the one hand, it may cause damage to the palm oil pressing machine and affect the processing progress; on the other hand, it may absorb palm oil and reduce the oil yield. Therefore, it is necessary to use palm fruit sterilizer to process palm fruit bunches to get the palm fruit. Then how does it work?
Generally speaking, the palm fruit sterilizer uses 0.35MPa steam to cook the palm fruit at a high temperature. The palm fruit sterilizer softens the pulp structure of the oil palm fruit bunch, making the pulp tissue easier to separate from the fiber and core during the mashing process. The high-temperature steam is sufficient to break the oil-containing cells in the pulp, so that the oil is easy to flow out. At the same time, the palm fruit sterilizer breaks the enzymes in fruit and avoids the increasing of the FFA content oil, which prevents hydrolysis and oil oxidation.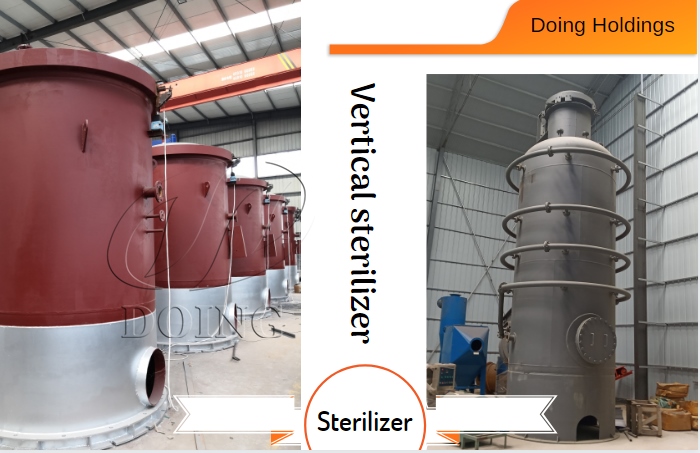 Sterilizer
In addition to the palm fruit sterilizer, the other palm oil processing machines used in palm oil production process are as follows: thresher, digester, double screw palm oil expeller, vibrating screen, plate filter, etc.
Henan Glory company can customize different types of small/medium/large palm oil processing machine according to customer requirements. These machines has the characteristics of high oil extraction rate, low energy consumption, stable operation, and received favorable comments from customers in more than 60 countries and regions. Welcome to contact us to get the free quote or have a factory visit!