This video shows us four schemes for cooking oil production line. Each scheme is suitable for different type of cooking oil processing plant.
The first scheme introduces running video of three hot selling cooking oil press machine (screw oil press, automatic temperature control integrated oil press machine, automatic temperature control oil press machine ). These cooking oil press machines are suitable for family workshop or small workshop which own advantages in high oil yield, smooth operation and being suitable of various oils.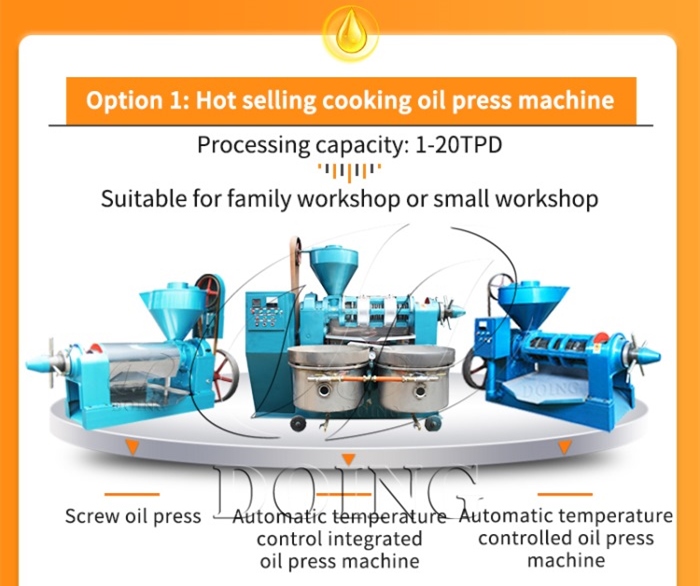 Small scale cooking oil press machine
The second scheme introduces 3D operation video and workshop operation video of simple type cooking oil press production line ( cleaning equipment, roaster, conveyor, screw oil press machine and plate filter ). The machines are suitable for small and medium oil mill plant, and compared to single oil press machine, the simple type cooking oil production line has more capacity, more automation and less labor.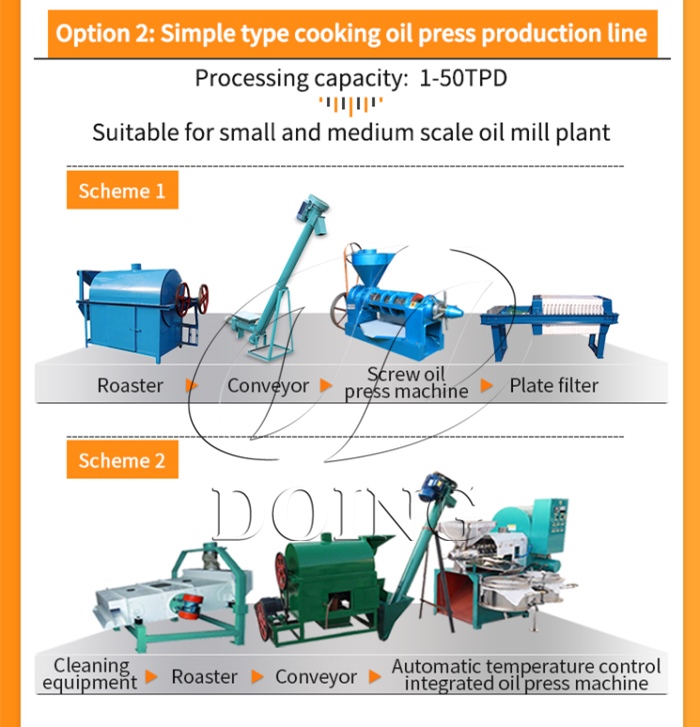 Simple type cooking oil press production line
The third scheme shows two 3D videos of high oil content oilseeds processing process, including peanut and flower seeds, which is large scale cooking oil press production line ( The process is cleaning, cracking, crushing, flaking, cooking, pressing, filtering and filling ). Compared to the first two schemes, this cooking oil press production line belongs advanced configuration of edible oil production equipment and has all the functions cooking oil processing machine, suitable for processing oilseeds with high oil content, such as peanut, sunflower seeds and cotton seeds, rapeseed and so on. [Related reading: Sunflower oil processing machine and Peanut oil processing machine ]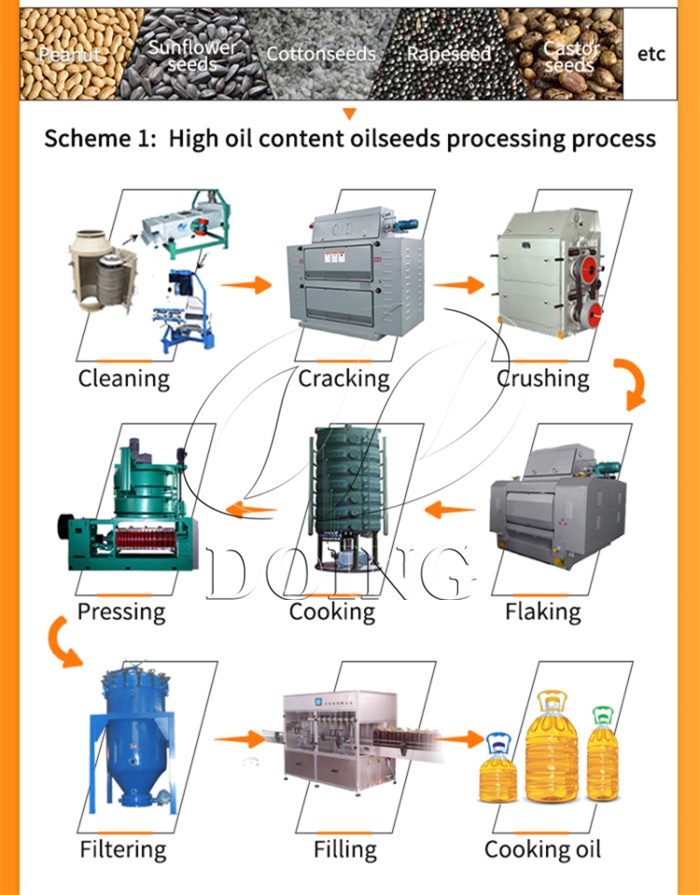 Cooking oil production machine with high oil content oilseeds
The fourth scheme displays two 3D videos of low oil content oilseeds processing process, that are soybean and rice bran. This cooking oil processing process ( cleaning, softening, flaking, puffing, drying, cooking oil solvent extraction plant ) belongs to the extraction process of large edible oil factory. Compared to high oil content oilseeds processing method, the low oil content oilseeds production line owns different processing steps, such as puffing, drying and solvent extraction according to the features of these low oil content oilseeds. [Recommended reading: Soybean oil procesing machine and Rice bran oil processing machine ]
If you have any needs, welcome to contact us, Henan Glory Company will customize proper solution according to the characters of your raw materials.